Chalk downland is a haven for wildlife
The chalk escarpment within the Chilterns Area of Outstanding Natural Beauty is steep and  has never been suitable for farming, so many pockets of grassland, scrub and woodland remain. Old chalk quarries create perfect conditions for cowslips followed by restharrow, yellow rattle and squinancywort... later come the rare Chiltern and autumn gentians. The whole area is home to scarce orchids, such as the frog orchid and man orchid, and butterflies such as such as the Duke of Burgundy, chalkhill blue and marbled white.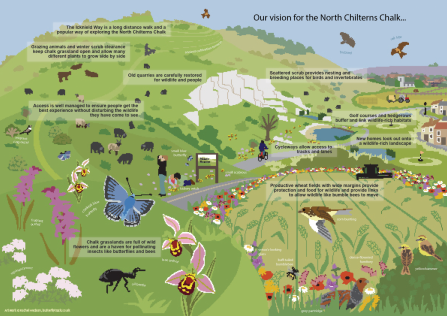 Close to Dunstable and Luton, North Chilterns Chalk is perfect for local people to enjoy the sight of meadows alive with butterflies in summer and to walk along paths with fantastic views and red kites soaring overhead.